Digital agencies offer businesses the unique opportunity to offload their technical work onto agency teams, freeing up the business to spend more time tackling other projects.

Unfortunately, the idea of working with an agency is often plagued by myths and falsehoods. Companies fear that agencies are too expensive or too detached to provide value, shorting themselves of an important opportunity for growth and development.

When it comes to design and development, we know how important it is to work with the best agency. To help ease your nerves, we're debunking the top five myths we hear from clients.
MYTH #1 Digital agencies don't care about my company or goals.Click to Flip
FALSE! Great agencies know that your company's success is a reflection of their work.
If an agency doesn't care about your company's success or goals, then they're not a great agency.

The best digital agencies will always care about your company's future! The entire reason why they spend their days developing stunning, custom projects for businesses is because they're passionate about problem solving.

If you're wondering whether or not an agency cares about your company, take a look at what they offer beyond the scope of your project.

For example, we show our clients Codal cares by providing 24/7 support and unparalleled transparency. Our clients have access to our project management systems and the team members that are working on their projects. As a result, they know that we'll answer any question that comes up and that we're fully there to help them succeed.
MYTH #2 Agencies aren't a long-term solution.Click to Flip
FALSE! The best agencies won't leave you in the dust just because a project is finished.
People often think that once an agency finishes working on a project, the relationship with their client is over. In reality, this couldn't be further from the truth.

After a project is completed, it's likely that there will be a need for additional work in response to support tickets and improvements that need to be done as your business scales.

The best agencies offer different support packages that give companies the extra helping hand they need. At Codal, we follow a process that lets us keep helping you as things come up— no matter when or how often.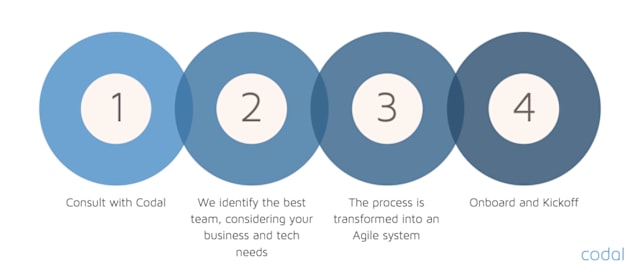 MYTH #3: Agencies are overpriced.Click to Flip
FALSE! Agency prices reflect the level of expertise and technical personnel they're putting on your project.
When comparing the work of a multi-thousand dollar project done by an agency and a $1,000 project done by a freelancer, there are a few key differences that can help you understand agency prices.

While there certainly are great freelancers out there, working with a freelancer only gives you access to one person for the duration of your project.

At an agency, your company will be in the hands of a team of experts that specialized experts. This includes different combinations of UX and UI designers, front and back-end engineers, business analysts, and other essential team members.

Not only does a collaborative team help your project move along faster, but it also provides you with many different perspectives on your company. And you can be assured that every part of your project is taken care of.

This can mean that agencies might be slightly pricier than a freelancer. But a website or an app is an investment— and it's always better to set yourself up for success from the beginning.
MYTH #4: They'll never be able to truly understand my business.Click to Flip
FALSE! An agency's job is to make sure they understand your business.
It's incredibly common for a company to tell us that their business and/or industry is too complicated for outsiders to understand. When clients tell us this, they're forgetting that learning their business inside and out is our goal.

As a UX design and development agency, we focus on creating the best experience for your users. We spend time researching your industry and competitors, talking to key people in your company, and running different brainstorming sessions so that we can become experts.

This is why the first step of every project we do is always discovery and research: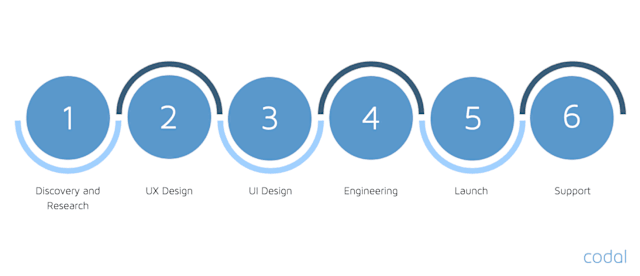 Ultimately, a great agency will dedicate time to fully understand your business. If they're not spending time on learning about your company, they're not fully solving your problems.
MYTH #5: My website/app is great, I don't need outside help.Click to Flip
FALSE! A fresh perspective can make a huge difference in noticing issues that you've overlooked.
Technology is evolving every minute of every day. Unless you've recently redone your app or website with the help of a UX agency, chances are your business isn't growing as much as it could be.

Until you get an expert consultation, you don't really know if your site is achieving its highest potential. After all, digital agencies don't just consider your website's design, they take a look at your site's speed, performance, ADA compliance, SEO, and more. It's always worth a conversation, because you never know what hidden problems you'll uncover.

Now that you're feeling better about working with an agency, it's time to get your project started. Get in touch with the experts that care to see how we can help you boost your website's traffic and solve your digital challenges.